The Miller's Playa Lithium Project is comprised of 960 acres of contiguous placer claims, located in the Big Smoky Valley, Esmeralda County, Nevada. The Big Smoky Valley is located immediately north of the Clayton Valley, home to Albemarle's Silver Peak Lithium Mine (in continuous operation since 1967), and is where Pure Energy recently identified a NI43-101 compliant inferred resource of 816,000 metric tonnes of lithium carbonate equivalent (LCE)* at a cut-off of 20mg/L in brine. (*Technical Report (2015) Spanjers, MS. PG.)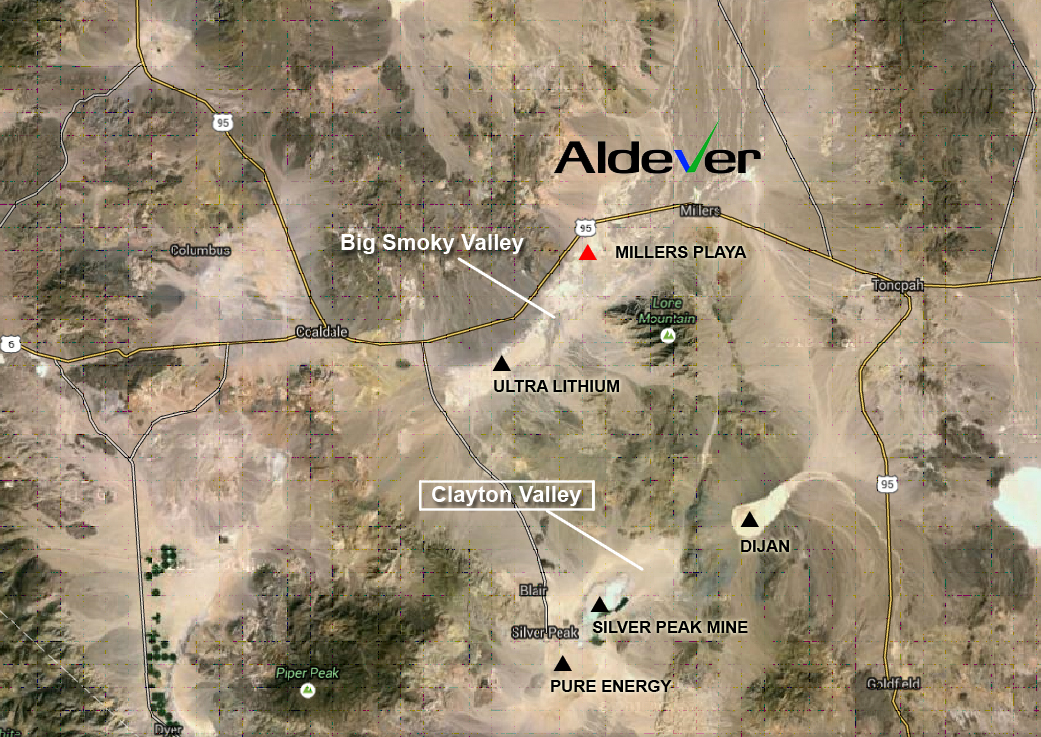 The Miller's Playa Project is located east of ground held by Ultra Lithium, and is ~40km north of the Silver Peak mine. The principal target at the Miller's Playa Project is a large northeast trending gravity low anomaly which is suggestive of an in-filled basin. The project directly adjoins Unity Energy Corp's Miller's Crossing Project to the south. The Big Smoky Valley was investigated with regional reverse circulation ("RC") drilling in 1979 by the United States Geological Survey (USGS) and anomalous lithium values were encountered in the basin sediments. The quality and concentrations of lithium brines discovered in the Clayton Valley may be present in the Big Smoky Valley.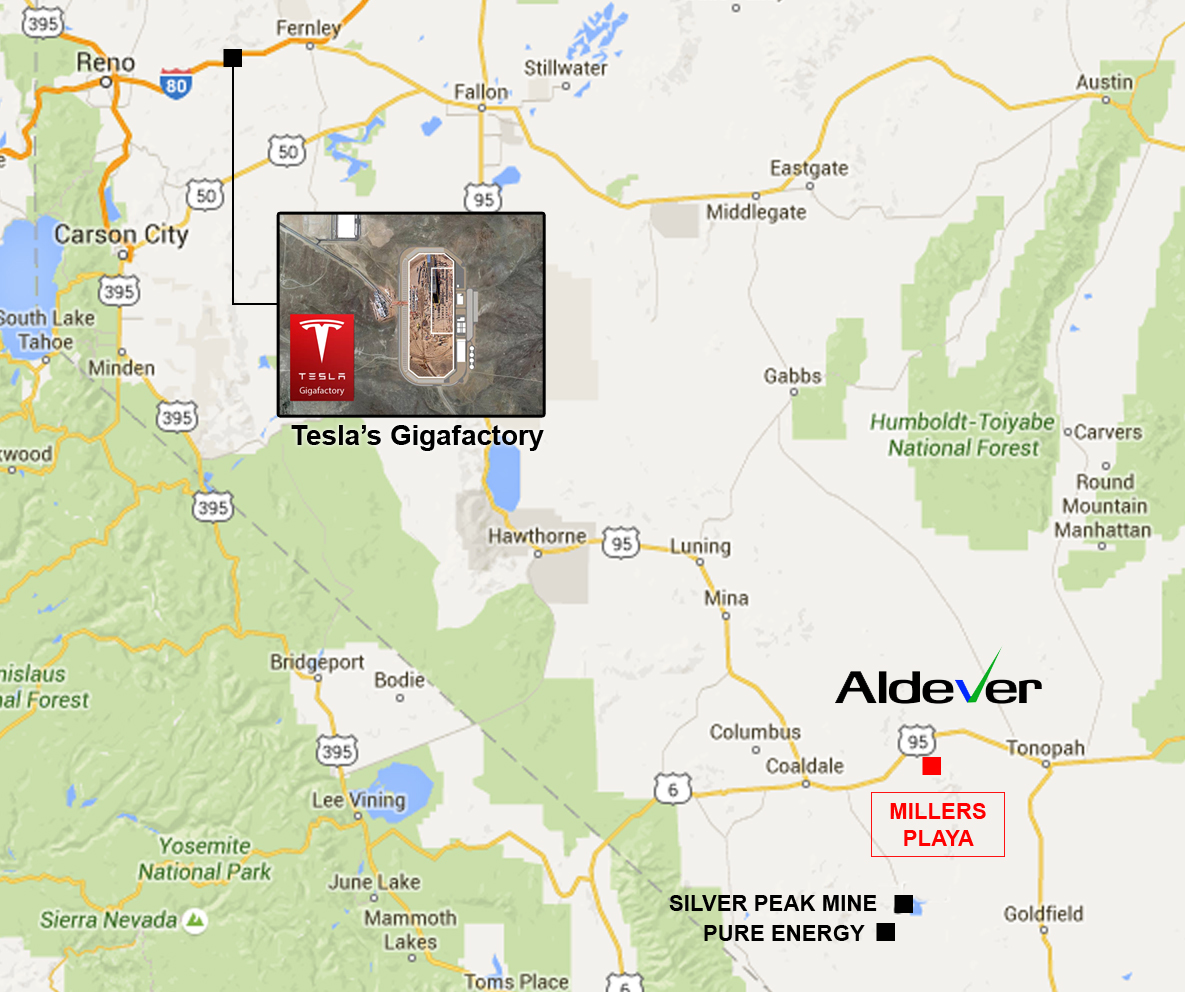 Tesla Motors, which in September of 2015 signed an off-take agreement with Pure Energy, is driving the current lithium exploration boom in Nevada. Tesla is building a lithium-ion battery factory, called the Gigafactory, just outside of Sparks, Nevada, which is scheduled to be operational in 2016/17. The Miller's Playa Project is located some 225 km SE of the Gigafactory site.
Aldever's interest in the project is subject to a 1% Gross Overriding Royalty ("GORR"), of which ½% can be purchased by the Company for $1,000,000.
About Lithium in Nevada
Lithium is a scarce and technologically important element produced primarily from brines and pegmatites. Although it is a non-renewable resource, it is used in conjunction with renewable energy technologies and hybrid automobiles, primarily in the form of Li-ion batteries, currently the most widely applied battery technology in many electronic devices. The consumption of lithium carbonate is on the rise and so far global production has kept pace with demand.
Located in the Range Province in southern Nevada, the Big Smoky Valley, which is approximately 3km wide and 14km long, is an internally drained, fault bounded and closed basin. Geological modeling suggests that lithium-rich brines have been transported and deposited in the both the Clayton and Big Smoky valleys since the Pleistocene era. The primary exploration model is to identify and map basins with ground gravity surveys and evaluate the chemistry of salts and sediments therein with RC or rotary-mud drilling. In the later stages of exploration, downhole geophysics and seismic reflection surveys are also utilized to define lithium bearing aquifers.